Bridas de bridas Weldneck A350 LF3
Bangdong Suministro ASTM A182 304H Bridas atornilladas, ASTM A182 316L Bridas ciegas, ASTM A182 904L Bridas reductoras. Bridas deslizantes, bridas ciegas, bridas soldadas en el cuello, bridas Socketweld, bridas atornilladas, bridas reductoras. Ponemos a su disposición bridas en diversos rangos a una entrega más rápida y precio de mercado asequible. Ofrecemos bridas de acero de alto calibre y sin igual para las diferentes necesidades de nuestros clientes. Nuestras bridas son de alta resistencia y pueden resistir condiciones escandalosas. Nuestra gama de gran alcance incorpora bridas de cuello de soldadura, bridas de soldadura de socket, bridas de soldadura de acero, bridas de cuello de soldadura de acero y muchas más.
Bangdong es uno de los principales fabricantes y exportadores de bridas de acero . Nuestro competente y experto equipo está especializado en la fabricación de una gama duradera de bridas de acero que están disponibles a precios razonables. Bridas de acero fabricadas en nuestra unidad con acero de calidad superior. Las bridas de acero son populares por su resistencia a la oxidación y su robustez. Las bridas de acero para la clientela están disponibles en especificación regular y personalizada. Por lo tanto, somos uno de los fabricantes de bridas de acero más solicitados en la India.
»

Features

»

Styles Available




Flat face

Raised face

Tongue

Groove or ring joint
» ASME / ANSI B16.5:
COLLAR DE SOLDADURA DEL CUELLO, BRIDA DESLIZANTE, BRIDA CIEGA, BRIDA DEL CIEGO DEL ALTO ESPACIO, BRIDA DE LA SOLDADURA DEL CALIBRE, BRIDA DEL LAPJOINT, BRIDA ROSCADA, BRIDA DE LA JUNTA DEL TIPO DEL ANILLO.
Clase de presión: 150, 300, 400, 600, 900, 1500, 2500
» ASME / ANSI B16.47:
BRIDA DEL CUELLO DE SOLDADURA, BRIDA CIEGA. (SERIE A y B)
Clase de presión: 75, 150, 300, 400, 600, 900
» ASME / ANSI B16.36:
(BRIDAS DE ORIFICIO) BRIDA DEL CUELLO DE SOLDADURA, BRIDA DEL SLIPON, BRIDA ROSCADA.
Clase de presión: 300, 400, 600, 900, 1500, 2500
» ASME / ANSI B16.36:
(BRIDAS DE ORIFICIO) BRIDA DEL CUELLO DE SOLDADURA, BRIDA DEL SLIPON, BRIDA ROSCADA.
Clase de presión: 300, 400, 600, 900, 1500, 2500
» ASTM / ANSI B16.48 :( espacios en blanco de la figura 8):

Clase de presión: 150, 300, 400, 600, 900,1500, 2500
» MSS SP44:
BRIDA DEL CUELLO DE SOLDADURA, BRIDA CIEGA.
Clase de presión: 300, 400, 600, 900
» API 6A:
BRIDA DEL CUELLO DE LA SOLDADURA, BRIDA DEL HILO, BRIDA CIEGA.
Presión: 2000Psi, 3000Psi, 5000Psi, 10000Psi, 15000Psi, 20000Psi, 25000Psi
» Material:
ASTM A105; ASTM A350, A694 F42 / F46 / F52 / F60 / F65
ASTM A182 F304 / 304L, F316 / 316L, F321, F310,
ASTM A 182 F51 / F53 / F55
» Tamaño: 1/2" -48 "
WELDING NECK FLANGE

Weld neck flanges are drilled (machined) with the wall thickness of the flange having the same dimensions of the matching pipe. The lighter the pipe is, the larger the bore, conversely, the heavier the pipe, the small the bore. Our range weld neck flanges, welding neck flanges are normally used for high-pressure, cold or hot temperature. We specialize these flanges in different dimensional and material specifications based upon the requirements of the clients.

SLIP-ON FLANGE

We offer the best quality

Slip on Flanges

which are durable and come at affordable rates. Customer satisfaction is of prime importance at our company and so the supreme quality raw material is used for manufacturing the Slip on Flanges.

Slip on Flanges

is useful in less strict requirements in terms of length of pipe section. Slip on Flanges is available in varied dimension and competitively priced keeping the market standards in view.

BLIND FLANGE

We provide an extensive range of high quality

Blind Flanges.

These products don`t have any bore, and they are commonly used to

block/close the end of the piping system

. Manufactured with the latest advanced technologies and high quality raw materials, these products are highly durable and resistant to corrosion. We offer product customization and they are available at competitive prices.

The reduction can be either threaded or welded based upon the requirements of the client.

SOCKET WELD FLANGE

Socket weld flange is a device that is welded to the end of pipe so that the pipe can be bolted to another pipe with a similar flange. Stainless steel socket weld flanges enable a pipe to be disconnected and reconnected with ease. Available in a spectrum of shape and sizes, our forged light weight steel socket weld flanges are manufactured using superior grade material such as stainless steel socket weld flanges, carbon steel socket weld flanges and known for their durability and performance.

LAP JOINT FLANGE

LAP JOINT FLANGES are primarily employed with lap joint stubs, the combined initial cost of the two items being approximately one-third higher than that of comparable welding neck flanges. Their pressure-holding ability is little, if any, better than that of slip-on flanges and the fatigue life of the assembly is only one-tenth that of welding neck flanges. The chief use of lap joint flanges in carbon or low alloy steel piping systems is in services necessitating frequent dismantling for inspection and cleaning and where the ability to swivel flanges and to align bolt holes materially simplifies the erection of large diameter or unusually stiff piping. Their use at points where severe bending stress occurs should be avoided.

THREADED FLANGE

A Threaded Flange is usually confined to a special application. The main benefit of a Threaded Flange is that it can be assembled without welding which makes it perfect for extremely high pressure services. Threaded Flange is unsuited for conditions involving temperature or bending stresses of any magnitude. Particularly under cyclic conditions where leakage through the threads may occur in relatively few cycles of heating or stress.

RING TYPE JOINT FLANGE

Our range of stainless steel ring joint flanges is highly appreciated for strength, durability, reliability, corrosion resistance and close tolerances. These stainless steel ring joint flanges conform to various Indian and international quality standards. Used in a number of industries, these stainless steel ring joint flanges are supplied in various dimensional specifications.

ORIFICE FLANGE

Orifice flanges are used instead of the standard pipe flanges when orifice plate or flow nozzle is used. In other words, orifice flanges are used with orifice meters. The basic purpose for this is to measuring the flow rate of either gases or liquids in the respective pipeline. These flanges are used in various industrial applications and are available in various sizes and materials. All orifice flange units are supplied with the plate, pressure connection holes, and jack screws.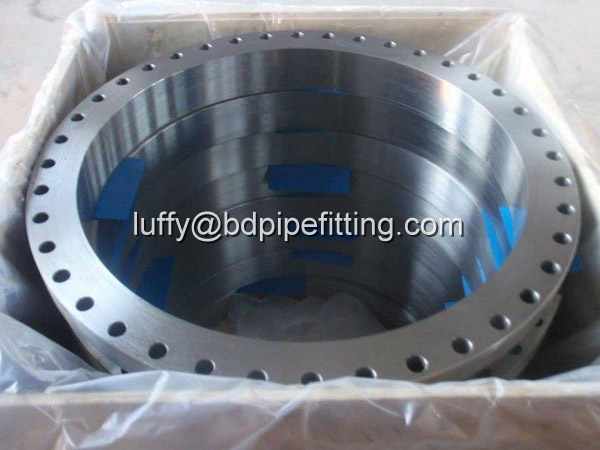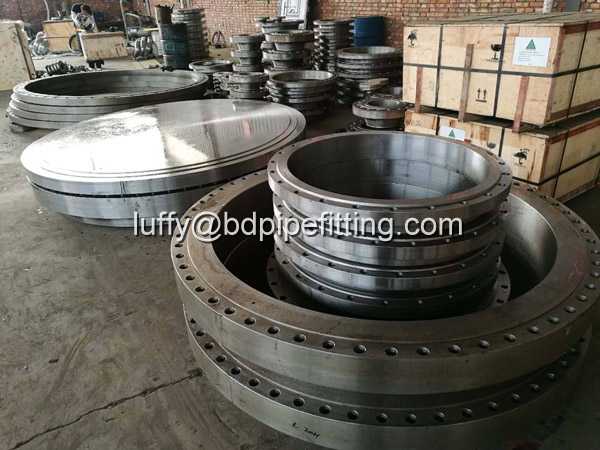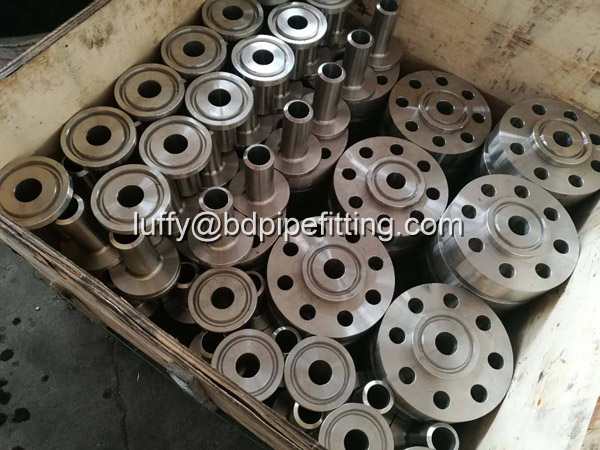 Tamaño: 1/2 "NB TO 24" NB.
Clase: 150 #, 300 #, 600 #, 900 #, 1500 # y 2500 #.

Tipos de bridas

PN, Bridas en blanco de la placa, Barras atornilladas, Ciega para gafas, Lapeado, Reductor, Soldado con suela de soldadura, SORF, Roscado, Cuello de Soldadura, Slipon, Ciego, Soldadura de zócalo, Articulación de vuelta. Anillo de unión. Oriface, Weldneck largo, brida de la plataforma, reborde RTJ

Grados de material

Aleación de níquel y cobre, Acero inoxidable y dúplex, Carbono, Acero aleado, Acero al carbono / Temperatura legal, Aleación de acero
Bridas de aleación de alto níquel
Monel, níquel, lnconel, Hastelloy, cobre, latón, bronce, titanio, tantalio, bismuto, aluminio, acero de alta velocidad, zinc, plomo, etc.
Bridas de tubos de acero inoxidable

ASTM A182 F304 / 304U 304H / 316/316/317/317/321/310/347 / 904L etc.
Bridas de acero al carbono

ASTM A105 / A694 F42 / 46/52/56/60/65 70 / A350 LF3 / A350 LF2, etc.
Brida de tubería de acero de aleación

ASTM A182 F1 / F5 / F9 / F11 / F22 / F91 etc.

PRODUCTOS POR GRUPO : Brida de acero > Salida con brida